2 Way Evacuation Voice Communication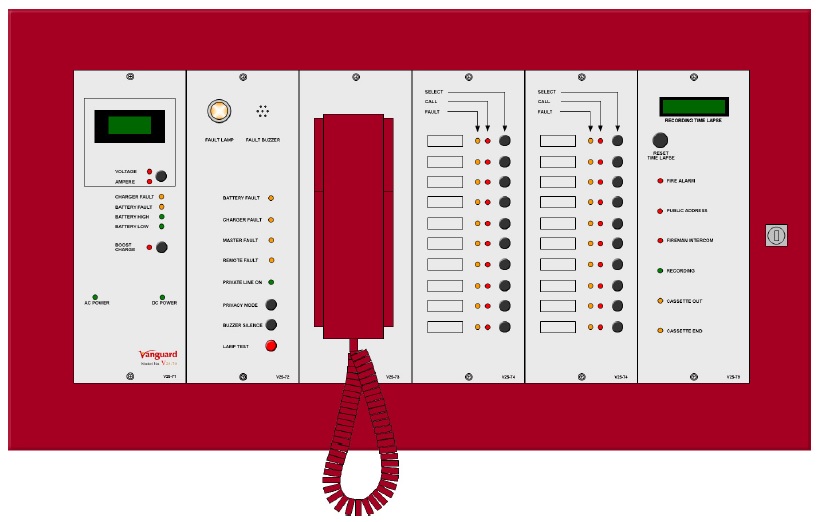 The system consists of a Master Control Panel capable of controlling and supervising up to a maximum of 900 Remote Handset zones. Each Remote Handset is wired to the Master Control Panel on a point to point configuration. Such configuration prevents cable fault in one handset from affecting the other
handsets in the system.
Individual control buttons makes the system very easy to use as most control functions require only one press operation. Individual LED status indicators provide operator with a quick overview of the system status at a glance.
A wide range of system fault monitoring circuits and fault indicators are built into the system. Handsets and cables are supervised for open and short circuit faults. Power supply unit and battery charger are protected by fuses and supervised for faults. A one press Lamp Test button checks for faulty indicators.
The built-in battery enables the system to function without interruption even when mains supply fails. After a mains failure, a boost charge facility allows the drained battery to be recharged to full capacity in a shorter time. A digital voltmeter and ammeter provides accurate and easy to read system voltage and
current levels.
An optional Cassette Interface Module (complete with cassette recorder) is available to record all voice transmission through the system. The recording can be started automatically whenever the fire alarm system is activated.
The system meets the requirement of Singapore Standard CP25: Code Of Practice For Emergency Voice Communication System in Buildings.
Dedicated call buttons: Simple, fast one press operation.
Initiate calls to Remote Handsets: Allows Master Handset to place calls to the Remote Handsets.
Privacy mode: For confidential communication between Master and selected Remote Handset.
Modular design: Cater for easy future expansion by adding modules.
Audible and visual call indicators: Ensures all incoming calls are annunciated – no missed calls.
Supervised handsets: Immediate alert of cabling faults in any handsets.
Digital voltmeter and current indicators: Convenient checking of system power supply condition.
High voltage and lightning protection circuit: Reduces downtime caused by induced voltage spikes.
Boost charge facility: Speeds up battery charging after any prolonged mains power failure.
Power supply protection: Short circuit, overload and over voltage protection reduces downtime.
Full LED indicators: LEDs last longer and reduces capacity of standby battery.
Lamp test facility: Fast and convenient one press button to test all status indicators.
Optional Cassette Recorder Module: Records conversation for post event analysis.
Master Control Panel Calling Remote Handsets
1. Raising the Master Handset of the Master Control Panel enables every zone "SELECT" button.
2. Pressing the "SELECT" button of the required zone will cause the selected zone's "CALL" indicator to flash.
3. A distinctive audible call signal at the selected Remote Handset will sound.
4. Raising the called Remote Handset off its cradle will silence the audible call signal.
5. The flashing "CALL" indicator of the Master Control Panel will turn steady.
6. Communication link is now established.
Privacy Mode
The Privacy Mode facility allows private conversation between the Master Handset and any selected Remote Handsets. Remote
Handsets which have not been selected will receive a "busy" tone. The system is on Privacy Mode by default.
1. When the Master Handset is raised, the "PRIVACY LINE ON" indicator lights up indicating that the system is in Privacy Mode.
2. A "busy" tone will be heard on any of the raised handsets. The "CALL" indicators of the raised handsets will flash.
3. Pressing the "SELECT" button of any raised handset zone will establish communication with it. The flashing "CALL" indicator of
the selected handset zone will turn steady.
4. Additional callers can be added into the communication channel by pressing its "SELECT" button.
5. To disable Privacy Mode and allow all callers to participate in the communication, press the "PRIVACY MODE" button. The
"PRIVACY LINE ON" indicator turns off. The system is now in conference mode and all new callers will be able to participate in
the conversation.