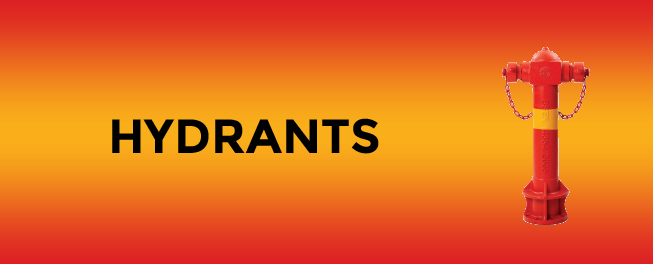 Pillar Hydrants are generally manufactured according to BS EN14384:2005 standard within a strict quality controlled environment to ISO 9001:2008.
There are several models and configurations for the 2-Way and 3-Way pillar hydrant design.
Model Fig.250 – 100mm x 2-Way with 65mm Male LVT Outlets.
The outlets of the above models can be customised to suit other national standards and customer's requirement
• Compact design.
• Robust construction.
• Easy operation.
• Reliable performance with no maintenance
required.
Design Pressure: 16 bars
Service Test Pressure: 20 bars
Factory Test Pressure: 25 bars
PN16 FF Flange. Other flange connection,
eg., ANSI #150 FF etc., available upon request.
Body: Speroidal Graphite Iron (SGI)
Outlets: Copper alloy and/or LG2 Gunmetal
Chain: Galvanised iron.
Internal – Epoxy coated.
External – Primer and RAL3000 "Red" finished coatings.